Want to teach your children values?
Below, you will find tips, tools, and resources to teach them about Kindness
Definition

Kindness is treating your neighbor as yourself.  A kind person is helpful and has a generous attitude.
Verse
Activities
Let's Talk About Kindness
Random Acts: Small gestures make a big difference.  Make a plan to do something kind for another person with your child at least one day a week.  It could be holding the door for someone at the store, bringing the neighbors a special treat, or taking the Kids for Kindness Challenge!  Soon, kindness will become a habit in your family.
Through Play: Children learn and develop their personality through play.  Don't allow them to pretend to be mean, bossy, and wicked during their play.  For example, My daughters love to play house.  Audrey likes to be the Mom and Emma and the other dolls are her children.  I don't let Audrey pretend to be mean and bossy to Emma, and I don't let Emma be sassy and rude to her sister.  Be vigilant.  Chances are, if they are practicing it through their play, it will come out when interacting with others.   
Practice Makes Perfect: How your children treat you is a good indication of how they will treat others.  Help them practice kindness by teaching them basic Manners at home.  Don't let your children ask for anything without a "please" and if they don't use "thank you" when you hand it to them, take it back.  This will make their behavior outside of your home even better!  
Kill'em with Kindness:  Kindness is powerful.  If you can teach your children to react to negative comments with kindness instead of a negative emotion, they will be happier, more confident, and have less bullies.  Practice this by asking them to respond to your question like, "I don't like your shirt" with a nice comment like, "Oh, well I think your shirt is really cool.  Where did you get it?" They might just make a friend from an enemy.
Have any tips on teaching children about Kindness?  Please leave a comment!
Books that Teach Values: Kindness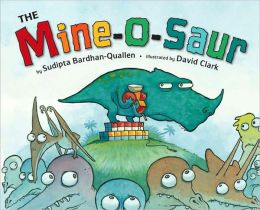 The Mine-O-Saur
This dinosaur doesn't know how to share.  He takes what he wants, but plays by himself.  What will the lonely Mine-O-Saur do when he realizes he has no friends?  Your children will love the dinosaur characters in this story.  Ages 2+
A Christmas Carol
This story isn't just for Christmas.  A classic tale by Charles Dickens; this version is for children with intricate illustrations.  However, you can find the original version for free in our Resource Center.  Ages 5+
Free Book of Virtues
This eBook is filled with the most important virtues for children.  Explanations are simple and Classic works of art will capture your children's attention.  Ages 3+
Activities That Teach Values: Kindness
The Compliment Game
Simply take turns saying something nice about the other person.
Use your fingers to time the person so they don't take longer than
10 seconds to think of something. The game ends when someone
can't think of anything to say.  You could also eliminate people
until you have a winner.
ARK Jars – Acts of Random Kindness Free Printables
Get the newest posts by email
Enter your email address: